In 2010, the winter Olympics were hosted in Vancouver. I was a 4th grade student at the time, eagerly watching the broadcasts on NBC Sports (channel 5 on Cogeco :P). The most memorable moment had to be the Men's half-pipe final. I witnessed Shaun White and his blazing red hair absolutely send it down the massive Whistler half-pipe. I could hardly contain my 9-year-old self, squirming and twisting with every single hit Shaun went through. Something was ignited in me that day. I wanted to be like him. I wanted to soar gracefully through the air and carve down the slopes like a knife through butter.
Of course, it's hard selling the parents that big dream. Strapping a fiberglass board to your feet and barrelling down a mountain isn't exactly model Chinese Canadian kid behavior from my dad's perspective. I knew my parents were hoping that this dream of snowboarding was just a 'wild streak', but I kept persisting. Every Christmas, I would wish for a board, mostly to no avail.
My big break came in grade 6. My dad, evidently frustrated with my pleading, stopped by Target and picked up one of those $30 kiddie boards. It was a 120cm plastic deathtrap that didn't have actual bindings, just those rubber straps. I loved it. Over that winter break, I spent every other day at Windsor's Malden Park, this old garbage dump that's used for sledding. There were usually big kids around with actual snowboards, setting up rail jibs and small jumps for practice. I was a pretty shy kid, so I would watch them carefully, and then try to match their tricks when they left. It started off rough (maybe the lack of bindings had something to do with it…), but I eventually developed some damn good skills. I was traversing between trees, hitting small pop jumps, and feeling like an absolute badass. I had my mom record me a couple times, and I'm honestly impressed with the skills I had on that kiddie board.
It eventually became clear to my parents that I really loved snowboarding. In grade 8, my family and I went on vacation to California, and the parents decided to let me have a taste of real snowboarding. I went with a family friend to the Sugar Bowl, right next to the Donner Ski Area. I was hyped and confident. After riding on a board without bindings, an actual board should be easy, right? My first run was miserable. My family friend took me on a blue, WITHOUT A HELMET. I flew down the run and ended up falling headfirst into a snowmaking dugout. My parents (bless them), immediately put a halt to the escapade and didn't let me continue until I completed a lesson. I spent the afternoon with Jared from the Sugar Bowl's ski and ride school, practicing on the bunny slopes. I was re-educated on how to stop, balancing from heel-side to toe-side, etc. I made some pretty fast progress, and by the end of the day I was back on the blue runs.
My next big blessing came midway through grade 8. I had been selected through my schoolboard for International Student Exchange in France. I was going to spend 2 months abroad in Dijon, hanging out with a French family. One of the highlights of the time abroad was going to be spring break in the alps. After finding out about this opportunity, my parents took me to Sportcheck to acquire my first real snowboard, my baby. It's a 158 Ride Manic board, fitted with that year's Burton Custom Bindings (Hot Pink!) and a Maple Leaf stomp pad. It was the post-Christmas clearance season, so we got some sweet deals on all my gear. For the remainder of the season, I spent 3-4 days on the slopes, at Mont-Tremblant (when we drove my sister back to McGill) and at Alpine Valley in Michigan. I loved my new board. On Canadian long weekends, I would go with my dad when he worked in the US to get dropped off at Alpine Valley. I would spend the whole day on my own, just practicing on their racecourses and terrain parks.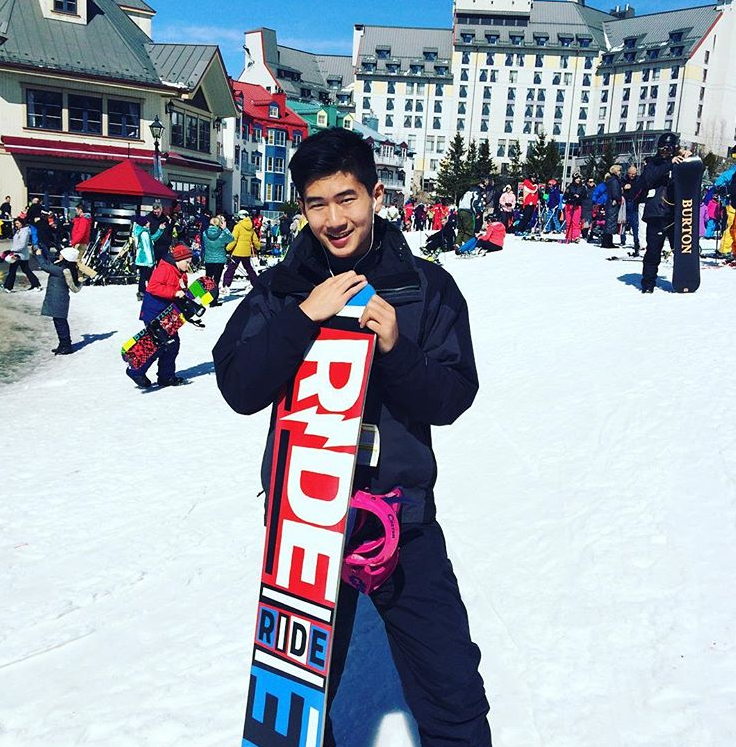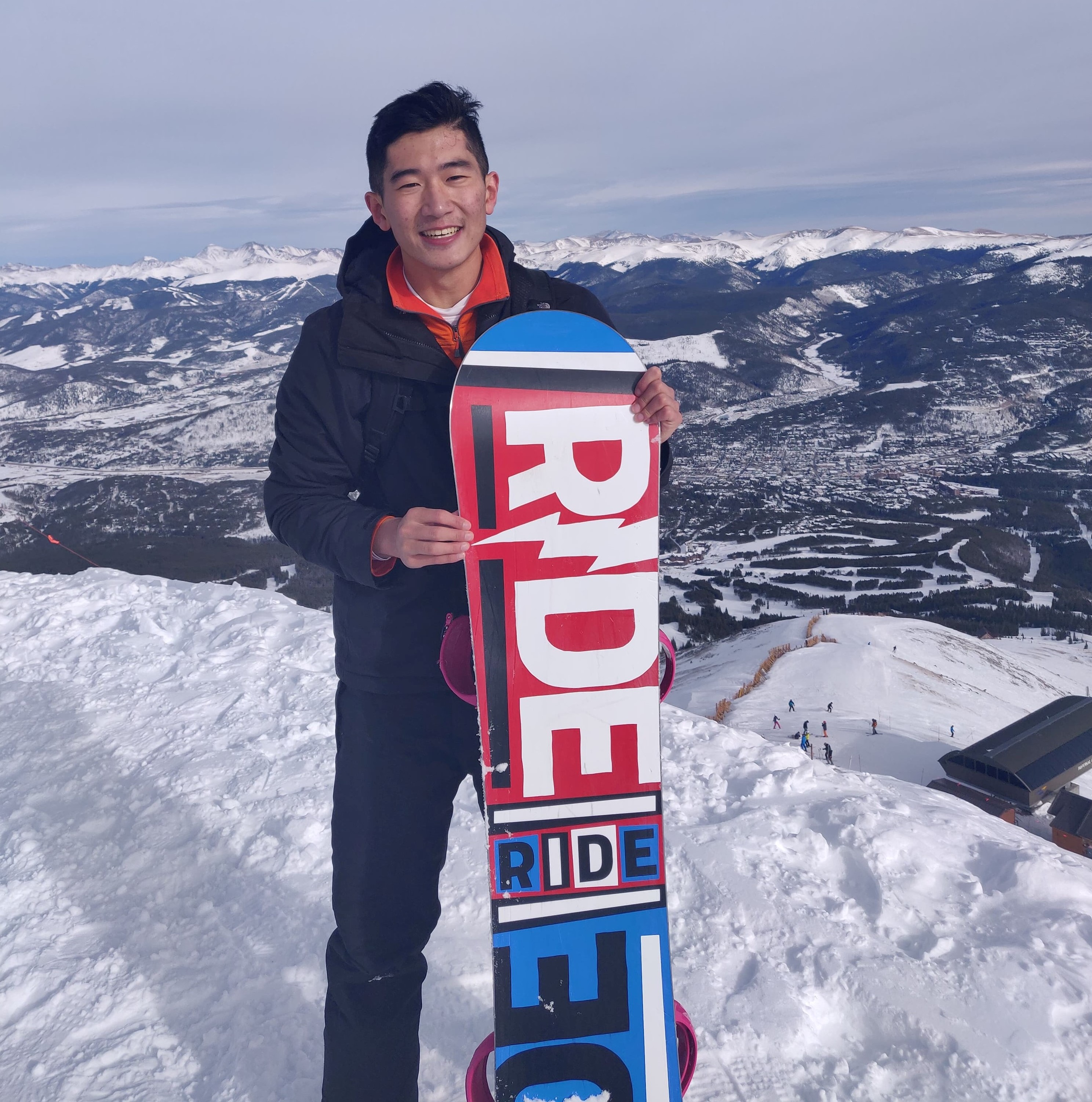 My 'Baby', from Tremblant to Breckenridge (2016 & 2019)
When the time came for me to go to France, I unfortunately couldn't bring my gear. My host family rented out everything, so I had some great stuff regardless. We spent a whole week in les 3 Vallées, the jewel of the French Alps. I got to experience the amazing snow in Val Thorens, Courchevel, Méribel, and Orelle. The trip was amazing. I rode through bowls and moguls for the first time, and finally stretched out carving. I also experienced one of my scariest falls to date. While riding out on a steep black run, I hit a patch of ice and hit the deck. I got the wind knocked out of me and slid on my stomach for a solid 40 feet. It was the first of many falls, lessons learned over in the process of perfecting my art.
After that once-in-a-lifetime trip to the French Alps, I made sure to ride as much as possible back home. Over the next 3 years, I would consistently ride at home in Alpine Valley and Mount Brighton, or further north at Blue Mountain. At the smaller home resorts, I learned all the little local Easter Eggs and focused on my freestyle riding. At Blue Mountain, I learned to ride on the seemingly never-ending ice (the conditions just seemed to always suck there…) Most of the time, I would ride on my own, lost in the thrill of the moment. At the time, I had an HTC One V, with just enough memory to store some songs torrented from Frostwire. I listened to a lot of EDM and high-intensity hip hop, running through artists like Hardwell and Kaskade as a flew down the slopes. I noticed that my confidence level (or recklessness?) increased with the BPM of the music. Looking back, locals must've thought I was some weird loser on the slopes. Here I was showing up on a Friday school morning (American kids still had school on days we were off, most of the time), nodding to music on my own and sitting silently on the lifts. To me, those moments were some of the best of my youth. I felt the most alive and at peace, with nothing to distract me from my own thoughts.
Whenever I didn't ride alone, I had some truly memorable experiences. I felt shock as I witnessed my friend break his wrist as I followed him on a jump in Brighton. I felt my heart ache with love watching someone special dance through the ice in Blue Mountain. These moments brought forth some powerful emotions and memories, and I can look back on all of them fondly no matter what happens.
I just had my most recent experience of that sort. My sister, her boyfriend, and I made a trip to Colorado to reap the benefits of their Epic Pass. We had access to all the resorts that Vail owns. After finishing exams, I packed my board bag and flew to Denver to meet my sister for 5 days of the best riding I ever experienced. We went to Vail, Keystone, Breckenridge and Beaver Creek, before repeating our 5th day in Vail. The mountains there were unlike anything I'd ridden before. I got to ride the Legendary Sun-Up and Sun-Down bowls in Vail, race down the steep Starfire trail at Keystone, and then attack the moguls & glades at Beaver Creek.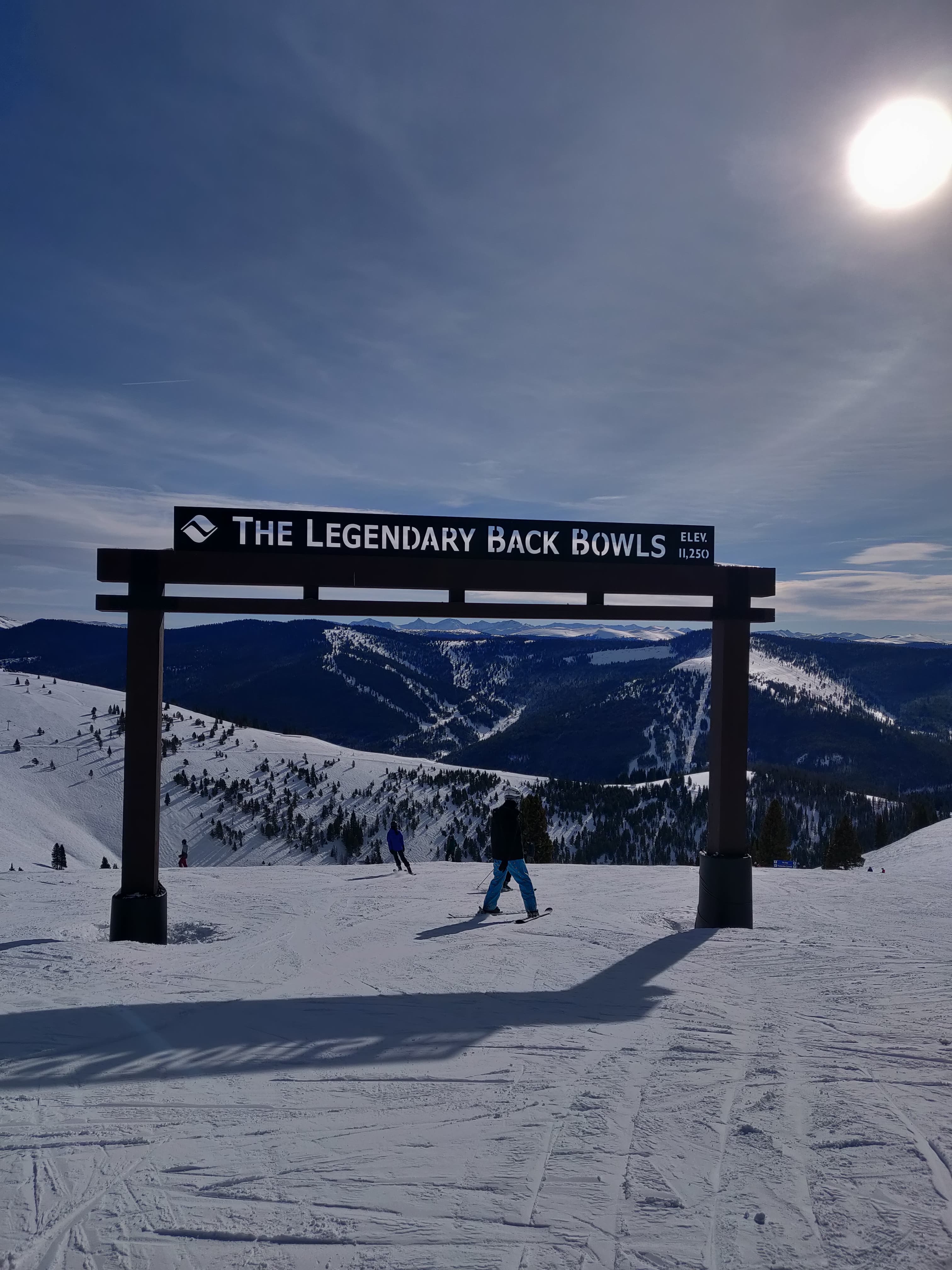 The Sun-Up Bowl in Vail, ~10500 Ft.
The real memory comes from the eye-opening hike to the summit in Breckenridge. The Imperial Express lift stops before reaching the true summit of the Imperial Bowl, so riders must hike up the ridge in order to get access to the full bowl. At 12000 feet, that hike with my board in hand was one of the hardest things I had done. There were no footholds defined for us, so hopefuls had to just blindly scramble up the steep ridge. As the crosswind kept howling, I started questioning my own willingness to make it up. After nearly getting my ass kicked by a pile of rocks, I finally made it to the summit. I strapped in my bindings and dropped into the huge double black bowl. For the moments as I fell, I felt every emotion that ran through my head as a kid. I was in a moment of perfection, fulfilling my wildest riding dreams.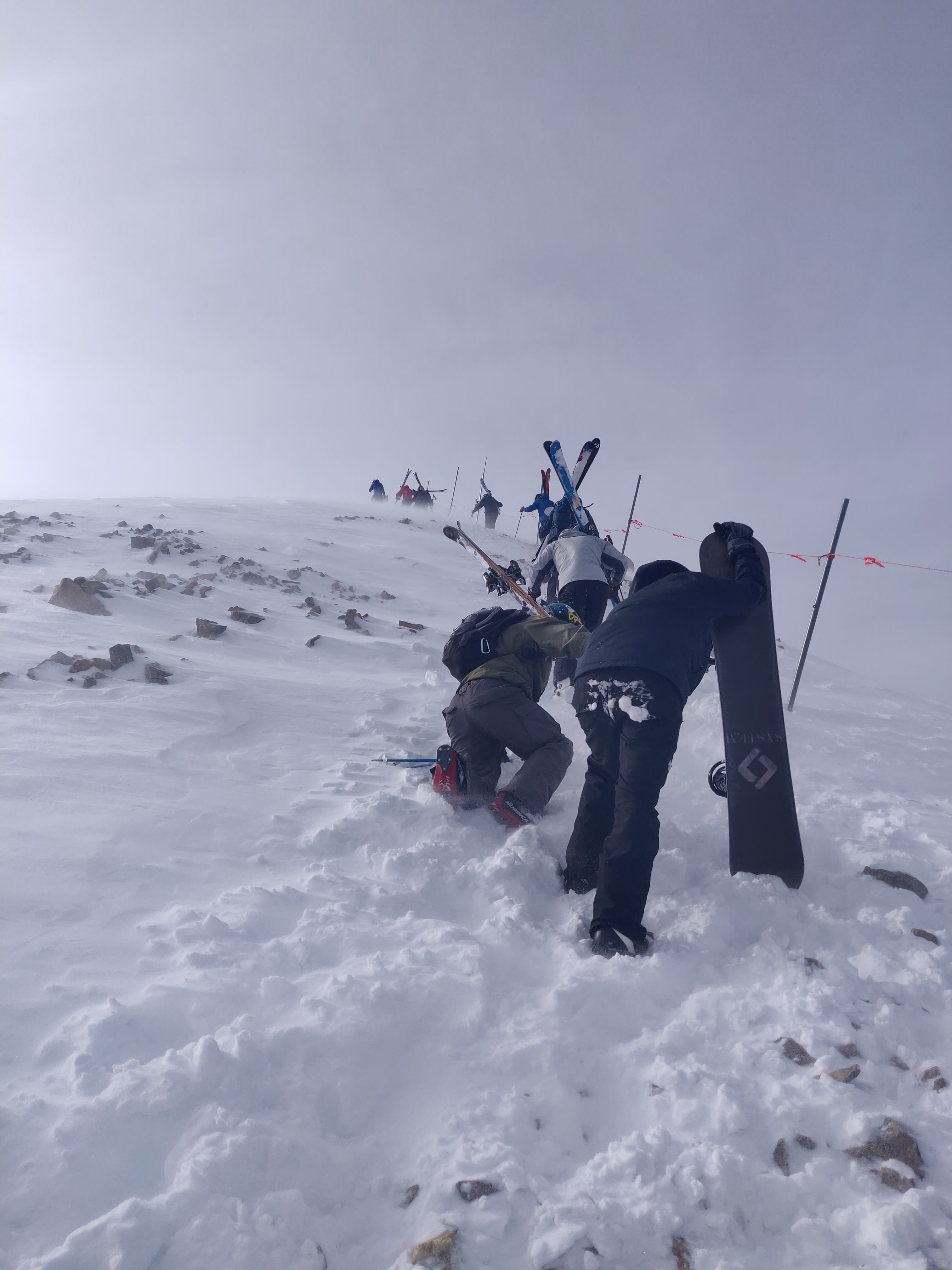 Hike to Imperial Bowl Summit, 12000 Ft.
Snowboarding brings out a part of me that nothing else can. Nothing can make me feel as alive and free as the art of shred. These years of riding have taught me so much about myself, and I'll continue to cherish every turn I carve. Until next time, ride on.